DATA BACKUP
ZERO KNOWLEDGE CLOUD SOLUTIONS
Your Privacy is very important.  That's why our system was created with a "ZERO KNOWLEDGE" platform.  Zero Knowledge means that your data and passwords are 100% private and only readable by you.  No plain text data, no keys, or file meta-data is ever stored on our servers. These measures ensure absolute confidentiality of your data regardless of who is requesting or trying to access it.  Zero Knowledge is the most reliable way to protect your privacy.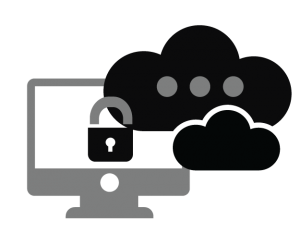 BACKUP
Never lose a file, folder or version of your document again. Automatically back up the things you need, on your schedule.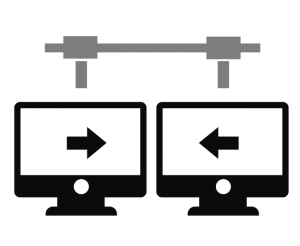 SYNC
Easy sync makes it simple and worry free to sync files and data across multiple devices.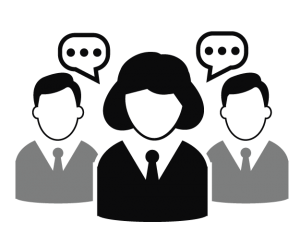 COLLABORATE
Create unlimited password-protected share rooms and send folders or files to collaborate with colleagues.
REDUNDANT, MULTI DEVICE, REAL TIME BACKUP
Redundancy integration means that if a version of the same file exists the 2nd (3rd, or 4th) file doesn't use additional storage space.  Our system internally detects the redundancy in these situations and saves online storage space which reduces the overall cost of using our data backup services. Additionally, all historical versions of any redundant document will upload with much greater speed, saving valuable time.
All Data and files are saved in real time throughout your data backup network and will sync across all the devices tied to your backup network. This works across all platforms: Mac, Linux, and Windows.
DATA BACKUP WEB PORTAL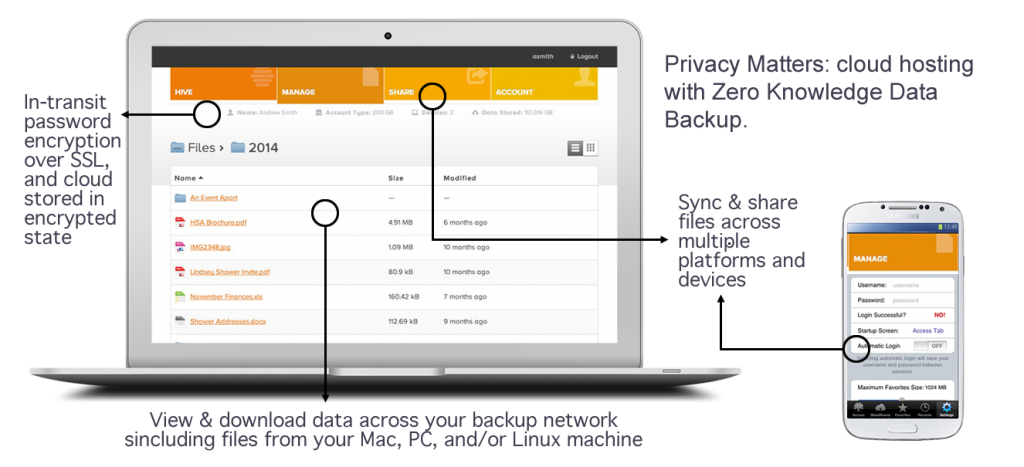 WHAT IS ZERO KNOWLEDGE?
Zero Knowledge is a unique system created key that allows the member and only the member to read and decipher data once it is decrypted.  When a file is encrypted using the members Zero Knowledge key this is what we see. 
B4 64 34 AE 8B 42 25 6C D6 9E 59 8B 22 A1 2A 07 BB 34 A2 B9 B3 8F 59 27 E4 13 45 44 2F 1A 1E A1 01 9B 88 7D 0C E1 07 4E B5 59 92 E4 5C C1 8C 64 10 3C 5D 4D 2C 29 D7 16 4B D0 51 33 68 D4 57 EB 01 0A 71 DA 0C 46 70 D2 85 9F 71 0A 41 93 7A 2F 88 D9 18 AE 8B 42 25 6C D6 9E 59 8B A6 48 67 1E 37 FC 59 55 85 79 E5 37 FD A4 B0 C1 3C 95 CC 03 DF BC B6 1B E7 CB 8B 05 05 E3 94 71 2A A4 DA C1 32 B2 31 34 AF B2 50 B1 44 CF 64 ED 5F AD D7 74 B2 5D 8C 03 9E 66 B2 9C 15 6B 1B 90 22 FF 98 15 10 6A 37 3F 43 2A E1 C2 C2 14 B4 7E 80 DB 35 CD B6 0C 46 70 D2 85 9F 71 0A 41 93 7A 2F 88 D9 18 AE 8B 42 25 6C D6 9E 59 8B A6 48 67 1E 37 FC 59 55 85 79 E5 37 FD A4 B0 C1 3C 95 CC 03 DF BC B6 1B E7 CB 8B 05 05 E3 94 71 2A A4
Cant read it?  That's the point.  True ZERO KNOWLEDGE.  Once files are encrypted with the members key, this is the only thing stored on the backup servers – just blocks of indecipherable crypto text.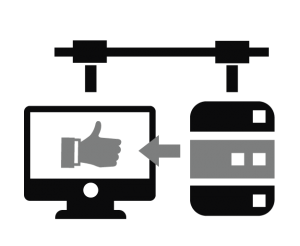 RESTORATION IS SIMPLE
Restoration is simple and easy because our system stores every version of a file and no matter what happens to the device (laptop, phone or tablet), all that important data is safe and accessible with just a few clicks of a button and some fancy zero knowledge decryption the data is restored to its original state.
PRIVATE LABEL & CO-BRANDED SOLUTIONS

 
Take your business to the next level. Contact us today for a partnership price quote and integration plan.